Alan Carr's Biography
Alan Carr is originally of San Angelo, Texas. He left the dry plains of West Texas to pursue a career in naval aviation. Carr's twenty-five year career as a naval pilot took him around the world. He called Florida, Maryland, Virginia, California and Naples, Italy, home during those years.
During Carr's early years in San Angelo, his exposure to woodworking was confined to the construction of class D unlimited hydroplanes. While traveling the world in the Navy, he found time to build several pieces of furniture for his family. Some of these designs were adapted for easier packing for the many moves the family made.
On Alan's retirement from the Navy, he moved the family to Fredericksburg, Texas. Faced with the perennial dilemma of what to make for Christmas presents for his two daughters, he and his wife spent many nights of discussion. An idea began to develop - a horse, of course.
Artist Statement
The "Native Texan" series of hand-sculptured horses and Western wildlife are solely my creation. I choose to sculpt entirely out of Western hardwoods. The vast majority of my work is in mesquite. This is my favorite because of its fickle grain, tight burl and rock-hard density. Mesquite's many attributes like dimensional stability, outweigh its craggy composure and imperfections.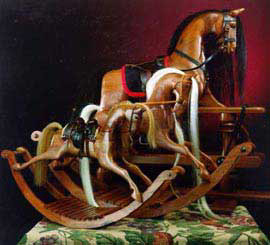 I have "reintroduced" techniques used by craftsmen in the late 1800's to create the famous "safety glider and Victorian rocking horses". My subject matter is "one-of-a-kind" representations of an actual animal - down to the individual coloration, breed, brand and birthmarks. Developed through a series of sketches, graph-proportions and templates, the final designs are then transferred to wood so that the grain is highlighted. Many layers of wood are laminated together to form the rough body of the animal. Traditional hand chisels and gouges are used to create the body proper. Then I gradually smooth the muscles with hand rasps, scrapers and hours of sanding. An epoxy clay made from crushed ivory may be inlayed into the wood to simulate the natural white stockings and blazes. The final tung oil finish is burnished with rootenstone and given a coat of paste wax. The horses sport real horsehair manes and tails and prosthetic quality glass eyes.
Each horse is fitted with a custom hand-tooled replica "Concho" saddle which my grandfather designed and made famous over 100 years ago. The saddle is made to my design and specifications, starting with a wooden saddle tree. Each saddle is hand-cut, stamped and stitched of the finest steer leather available and serialized to match the horse.
"Native Texan" is a unique Western tradition. These horses will not only bring pleasure and fun for all of this generation but also for the generations who follow.