A History of the Rocking Horse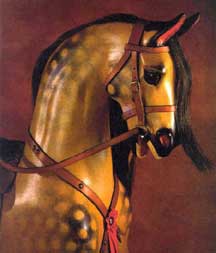 Rocking horses date back to the 17th Century. A very few of these early rocking horses still survive in museums and private collections. By the 1800's, rocking horses had changed to the traditional form replicated by today's artists. The Victorian style horse on bow rockers is considered the safest form because of the width of the rockers and resistance to being overturned. During the 19th Century, wooden toy making evolved from a cottage industry into a factory production. Toys were now available to satisfy hundreds more of the affluent society on both sides of the Atlantic.
In the late 1800's, several inventive rocking mechanisms sprang onto the market. One alternative rocking mechanism was the "swing iron safety stand" developed by P. J. Marqua of Cincinnati, Ohio, USA, and was patented in London in January 1880. The "safety glider" has the distinct advantage over the rocker in that it does not move across the floor and takes up less space for an equivalent size horse. Because of its safe design, the safety stand allows a longer swing and is used almost universally by makers today. Most of the factory produced wooden horses were gessoed and painted a characteristic dapple-grey.
The traditional wooden rocking horse was almost extinct by the 1960's. In the last 25 years, a few very talented restorers in Britain have revived the almost lost art form. Anthony Dew of Fangfoss, England, led the revival of the craft. Today dozens of small cottage businesses have sprung up. Members of the "Rocking Horse Makers Guild" have the expertise to restore or reproduce a genuine Georgian or Victorian rocking horse for a discerning market.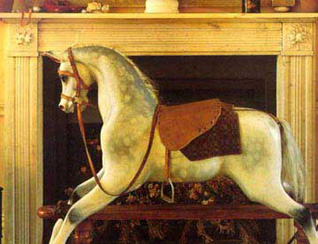 Alan Carr of Fredericksburg, Texas, decided to take the traditional Victorian gliding horse a step further. He wanted to create a horse which captured the romance of the American West. He wanted children who had grown up with Roy Rodgers, Wyatt Earp, Gene Autry and other Western idols to have an heirloom to pass along to generations of American children.
Alan's Texas roots run deep. His grandfather, R.J. Andrew, opened the Concho Saddle Shop in West Texas in the late 1880's. Andrew designed the famous "Concho saddle" before the turn of the century. Salesmen carried miniature model saddles in their buck-boards from ranch to ranch as far north as the Texas Panhandle and as far west as Arizona. The sample saddles are the smallest authentic saddles made and are highly prized by Western art collectors today.
In 1987, Alan bought a 200 year old mesquite tree which was felled because of declining health. The tree had provided shade for his grandparents' basket lunches over a hundred years earlier. His mother had enjoyed its shade for her tea parties. It was a favorite meeting place for Alan's grade school classmates to play mumblety-peg and carve their initials on the massive roots. For a family rich in Western heritage, it was natural for Alan to save wood from this wonderful tree to make special gifts for his family. This tree provided the wood for his first horse. This horse brought together over 100 years of family history.
Carr's work is a unique, new Western tradition which brings pleasure and fun today and for generations who follow. This work can be seen at his workshop south of Fredericksburg, Texas, and at fine art shows in Texas.